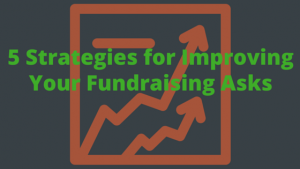 We get it.
Asking for donations can be hard.
If you work for a small nonprofit and don't have extensive fundraising experience, you might be wondering how you can get started. You have a multitude of solicitation strategies at your disposal; how can you possibly figure out which ones work best?
If you work for a larger organization, your questions might be a bit different. You might need to adjust a particular method you thought was tried and true, or you might be facing a declining donor retention rate and are unsure how to fix it.
All of these concerns are perfectly valid and understandable in an age where multichannel fundraising seems to complicate things rather than clarify them.
But have no fear! We're here to put those doubts to rest and give you the tools and strategies you need to start improving your fundraising asks.
Whether you're looking for a way to solicit major gift donors, fundraise online, or get your entire team on the same page, we've got the answers right here.
Let's take a look at the top five ways your organization can give your fundraising appeals a boost.
And don't forget to check out Qgiv's Ultimate Guide to Asking for Donations.
1. Get a plan together.
Before you can even start fundraising effectively, you have to know what your goals are. A destination without a map can be fun, but you open yourself up to mishaps, wrong turns, and dead ends.
Instead, chart out your fundraising course each year to account for changes in your organization's structure and mission.
Take a look at your past fundraising efforts to determine which strategies were most effective.
Did your peer-to-peer event help you raise more than your goal?
→ Implement that same fundraiser with minor improvements.
Did your direct mail campaign fall a little flat?
→  Ask yourself if you need to take your fundraising efforts online.
Did you lose more donors than you gained?
→  Review your stewardship and acknowledgement strategies. They may need improvement.
Have your social media sites been capturing more followers?
→  Keep doing what you're doing and post relevant, informative content.
If you don't have any fundraising past to look to, try to plan and prepare ahead of time.
Ask your donors directly how they'd like to communicate.

This will save you a lot of time and effort in the long run.

Learn from similar nonprofits.

If you see that an organization similar to yours has had great success with a particular fundraising strategy, try to mirror it. Don't be a copycat, but take good notes from others.

Always leave room for adjustments.

If something isn't working, fix it.
Forming a plan and charting a course before you even start fundraising is crucial for your nonprofit's success.
2. Know who you need to ask.
This point goes hand-in-hand with building a plan.
You can't effectively fundraise if you don't know who to ask for donations.
One way you can narrow down your search is to perform a prospect screening.
You can use prospect research in order to determine who
1) has the ability to give to your organization, and
2) is willing to donate.
Compare your existing records to a charitable giving database to organize your donors into different giving levels.
Plus, with prospect research, you can update your existing information with:
Basic donor data like names, addresses, and phone numbers;

Past giving histories to your organization, other nonprofits, and political campaigns;

Stock and real estate ownership;

Business affiliations;

And more!
Use prospect research to help determine who you should ask for donations.
If you plan correctly and find your most willing and able donors, you'll be able to fundraise more effectively.
3. Take your appeals mobile and online.
If your organization is looking to give donors a quick and easy way to donate, you should turn your attention to mobile and online giving.
Mobile giving in general increased by over 200% last year alone. Those are numbers that your organization can't afford to ignore!
Let's take each of these sections on their own:
Fundraising Online
In an increasingly digital age, it just makes sense to start asking for donations online.
Your website is how many donors will form their perceptions of your organization. They can:
Read about the history of your nonprofit;

Look up volunteer opportunities;

Find information about past, current, and future projects;

Read success stories;
And donate to your cause.
That last point is the most important. Donors who want to easily give to your organization can do so with your online donation page.
Is your form encouraging them to give or driving them away?
Pay attention to the following best practices when it comes to online donation pages:
Keep it simple.



A donation page that is cluttered and filled with links, images, and text is going to overwhelm donors.





When you include more information fields than you need to, donors become distracted, and your donor conversion rate (i.e., the number of donors who land on your donation page and make it all the way to the end of the donation process) drops precipitously.





Keep your donation page clean and simple. Reduce the number of options that donors have to choose from to increase the chances that they will complete the donation process.
Make it easy for donors to give again.



If someone wants to give on a monthly basis but is worried about remembering to log on to your donation page every 30 days, give them an option to sign up for recurring donations.





It can be as simple as having a field with a drop-down menu prompting them to make a donation:





– Once




– Monthly




– Quarterly




– Yearly





Giving donors the opportunity to set up recurring donations will help increase your donor conversion rate and will make it easier for your biggest supporters to give to your cause on a regular basis.
Keep donor data safe.



Donors aren't going to be comfortable giving online unless they know that their personal information and credit card data are safe.





Reassure them that your online donation form is safe by staying in line with the Payment Card Industry Data Security Standards (PCI DSS).





You should also place security certification logos on your donation form so that donors can donate with peace of mind.
Once you've established an online donation page, the next step is to make it mobile-friendly.
Mobile Fundraising
Mobile giving is slowly becoming a popular method for donors who want to show their support on the go.
When designing your online donation form, make sure that it is mobile-responsive and is able to be viewed on tablets as well as smartphones and other mobile devices.
If you're using text-to-give, make sure that your keyword is simple and easy to remember. You don't want donors typing up a mini novel just to give $20.
The key to mobile fundraising is to make the donation process as easy as possible. Mobile donors don't want to deal with a non-mobile-responsive donation page or a mile-long short code.
Make mobile giving efficient and easy to use. Your donors will thank you!
4. Keep track of your metrics.
Every good athlete knows that practice makes perfect.
But in order to determine when that perfection is reached, they have to measure progress.
While your nonprofit might not be preparing to run the 40-yard dash or participate in any kind of championship, you still need to measure your own performance when it comes to fundraising.
A sampling of key performance indicators (KPIs) you need to track includes:
Donor retention.

Are you keeping your donors or are they giving once and saying goodbye? Measure your donor retention rate to know!
Cost per dollar raised (CPDR).

Fundraising comes with a price tag. Measure how much you're bringing in against the cost of acquisition to determine if you're in the red or the black.
Average gift size growth.

Are your donors giving the same amount each time they donate, or are they steadily upping their contributions? Track the average gift size of your donors to inform your decisions to upgrade donors to higher giving levels.
Learn more about the key performance indicators you should be tracking here.
5. Be different.
This last tip may seem kind of cheesy, but in an age of mass-marketing, it helps to stand out from the crowd.
The aforementioned best practices are general tips that nonprofits should implement to create a donor-centric donation process that benefits both the organization and the supporters.
But if all nonprofits ask for donations in the same way, the result is boring, cookie-cutter appeals for contributions.
Donors want to feel that the nonprofit they support is unique and special to them. That uniqueness should be reflected in the way your organization asks for support.
Maybe you start hosting different types of fundraising events.

Perhaps you institute a unique email campaign.

Or you could try using social media in new and different ways.
There is no one-size-fits-all solution for nonprofits who are looking to raise more money. We can offer up tips and tricks, but at the end of the day, your organization will have to determine what works best for you and your supporters.
——-
Hopefully these five strategies will help place you on the right track for a successful year of fundraising.
Whether you're a small and relatively new nonprofit looking to break into the fundraising game or you're a larger organization that's been asking for donations for years, there is always room to improve your fundraising strategies.
What about you? What fundraising tactics have you found to be most successful? What advice would you give to a new nonprofit professional?
---
About the Author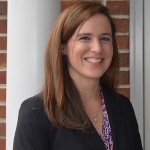 Sarah Tedesco is the Executive Vice President of DonorSearch, a prospect research and wealth screening company that focuses on proven philanthropy. Sarah is responsible for managing the production and customer support department concerning client contract fulfillment, increasing retention rate and customer satisfaction. She collaborates with other team members on a variety of issues including sales, marketing and product development ideas.