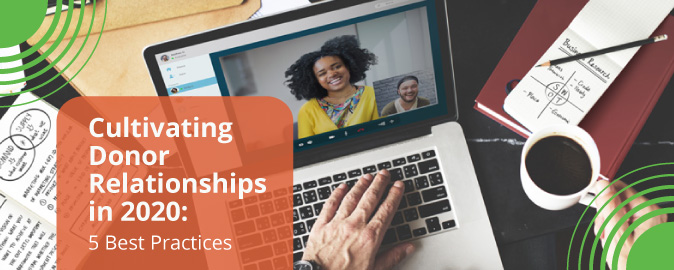 2020 has proved to be quite an unpredictable year. With a global pandemic forcing most of us to stay indoors and pause face-to-face interactions, many nonprofit organizations are unsure of their next steps and the state of their fundraising.
Due to COVID-19, the global economy has taken a hit as well, with more people unemployed than ever before. On top of that, many of your fundraising events have likely been postponed or canceled, meaning you stand to lose out on crucial revenue. While online fundraising can continue, the lack of traditional face-to-face engagement means fundraisers still face challenges.
This is the perfect opportunity to develop and work on your donor relationships. For one thing, it is much more cost efficient to focus on maintaining your current donors now than having to acquire new ones down the road. Even if your supporters can't give at this time, focusing on donor relations still lays the foundation for future engagement.
Your donor relationships are your most important assets, especially during moments of instability like this. Consider the following practices to ensure that your donor relationships stay unaffected during this time:
Set online engagement key performance indicators.
Emphasize non-fundraising communications.
Optimize your communication strategy.
Provide virtual opportunities.
Compile consistent reports.
Many nonprofit organizations are scrambling to keep their fundraising revenue up. However, be sure to prioritize your donor relationships and focus on your digital engagements instead of just increasing your gift asks. Ready to learn more? Let's begin.

1. Set online engagement key performance indicators.
The key to a sustaining and positive donor relationship lies in your engagement strategy. This is even more crucial in times like these. Even if your donors can't make a gift, these relationships still hold tremendous value to your organization.
According to this Fonteva article, the best way to track your engagements is to set online key performance indicators. KPIs are strategic business metrics that your organization can set in order to measure the progress towards a goal.
For example, if you want to improve your outreach efforts, a good KPI to track is the number of new donors in your database.
When your goal is cultivating donor relationships, it's a good idea to get an understanding of your current engagement efforts and where your donors are already most active. These metrics are likely to be the best ones to start tracking. However, you have to keep in mind that the engagements should not include face-to-face interactions, so it's a good time to focus on digital ones.
What are some of the KPIs you can set to track your own donor relationships in the age of COVID-19 and social distancing? Consider the following:
Email open rate. It's a good idea to get a sense of how your supporters are responding to emails from your nonprofit. If you start to see your email open rates drop, consider revising your email content and communications strategy.
Social media engagements. To stay connected with your entire supporter base, make sure to keep up your social media engagements. Keep your followers updated with nonprofit news, upcoming fundraisers, and the meaningful work your organization has accomplished. You'll want to track trends like "likes" and followers, but consider tracking comments and shares, too!
Number of phone calls. Even though you can't meet in person, you can still give some of your important donors a call or even talk through video chat. This way, you can still get some personal engagement while abiding by social distancing practices.
Virtual event registrations. If your nonprofit is offering virtual events, ensure to track how popular they are. The more registrants who sign up, the bigger your engagement will be.
As you track these KPIs, you can get a sense of how your donor relationships are going based on different strategies. If you suddenly get an influx in any of (or all) these engagements, that's a good indicator that your efforts are going noticed and your relationships are sustaining.

2. Emphasize non-fundraising communications.
The economy has taken a hard hit during this global pandemic. Not only is your nonprofit having to adapt, but your donors are, too! Not everyone is in a stable financial position and, even if they want to give to your organization, they might not be able to.
However, this doesn't mean you stop engaging supporters altogether. Instead, this is the perfect opportunity to emphasize non-fundraising communications. Consider the following ways to communicate with donors during this time:
Send emails to your supporter base explaining how the pandemic has affected your organization and mission so far. Has it prevented you from accomplishing a specific act? Or has it forced you to cancel a fundraising event or volunteer activities? It's also a great idea to let donors know if your organization is doing anything specific to COVID-19 relief. Maintaining this transparency lets donors know that this relationship can be trusted and is a two-way street.
Ask your donors how they're doing. Let them know that you are aware that they might be going through a tough time and that your communication channels are open for any questions. This simple act of showing you genuinely care goes a long way.
Provide some helpful resources regarding the pandemic, whether it's ones you create yourself or links to other reputable sources. For instance, Qgiv has a long list of resources here. For more general guidelines, the CDC and the WHO are great places to reference and check periodically.
Connect with supporters on how they'd like the engagement to be going forward. You don't have to necessarily stop all fundraising asks. Instead, inquire if the donor would be able to make a gift— or if they'd like to pause solicitation emails for the time being. Nevertheless, there will also be those who state that they cannot make a gift, and you need to ensure that you keep their preferences at a top priority.
If you continue to make fundraising asks to those who specifically say they cannot, you risk ruining that donor relationship and gaining the reputation of being disingenuous. If you're unsure of how to phrase any of these donor communications, we urge you to check this guide of templates.

3. Optimize your communication strategy.
As we discussed in the previous section, communicating with your donors is important, especially in times of crisis. However, every one of your supporters is going through different experiences and will likely vary in their engagement preferences. That's why it's so important to ensure that your marketing solution includes donor segmentation capabilities.
Segmentation is a key marketing strategy that many nonprofit organizations (and businesses!) find invaluable. This process involves segmenting your audience by certain metrics and creating targeted content based on those segments. This ensures that each time a donor receives an email, the content is relevant and provides value to the reader.
For instance, if your nonprofit is planning a virtual event, you shouldn't be sending event-specific emails to your entire supporter base. Simply segment your virtual event guests to ensure that only those who are registered get those emails.
What are some of the top metrics you should segment your supporters with during this time? Here are a few common segmentation metrics:
Where they live. Depending on where your donors live, they'll be experiencing different situations regarding COVID-19. It might be a good idea to segment your supporters based on location, especially when talking about the current situation.
Their past gift level. Donors give at different levels and rates. Whether you have major gift donors or recurring donors, ensure that you segment them for more targeted communications. For instance, you should be engaging your major donors even more than with other supporters in case they might want to give a large gift in the future.
Their current communication preferences. If your donors have indicated that they would rather not have any fundraising asks during this time, make sure you respect their wishes. Instead, increase your non-fundraising communications. You can also give them other ways to advance your cause, like volunteering, sharing your posts on social media, or setting up a peer-to-peer fundraising page.
Virtual event attendance. If you're hosting any virtual events for your donors, ensure you segment your attendees for any of your event communications. This way, donors who haven't registered can continue to receive general information while only attendees receive actual virtual event details.
Segmenting your audience is a great way to ensure that you create targeted and meaningful content for your donors. Don't miss out on this simple and easy engagement tactic!

4. Provide virtual opportunities.
One of the most obvious effects of COVID-19 on many organizations is the cancellation of events and other in-person engagements. Due to social distancing requirements and health guidelines, all in-person fundraising events and face-to-face campaigns should be put on pause. Unfortunately, this gets rid of some of your major engagement opportunities with supporters.
However, you don't have to worry too much. Instead, start thinking about virtual alternatives. You can still provide similar opportunities for your donors— they'll just look a little different and be experienced digitally rather than in-person.
In fact, virtual fundraising engagements and events can increase overall accessibility and reach donors you might not have ever been able to reach before. For one thing, virtual events don't require a venue or catering, so the ticket price will likely be lower than usual. On top of that, people from all over can participate when it's online, which handles the issue of your event inadvertently excluding those not able to physically attend.
With the right software solution and digital tools, you can still provide engaging and valuable opportunities for your supporters and continue to develop these key relationships. Consider these examples:
Online fundraising campaigns. Consider hosting a fundraising campaign that takes place entirely online. For instance, a peer-to-peer fundraiser is a great way to raise a considerable amount of money and meet new supporters using just the internet and social media platforms. To maximize success, this Qgiv article recommends a dedicated peer-to-peer tool.
Virtual events. Virtual events have been on the rise for a while, so it's no surprise that many nonprofits are using this medium for their fundraising as well. If you decide to host a peer-to-peer campaign, you can also plan a virtual event to go along with it! For example, many nonprofits traditionally host a walk-a-thon to conclude their peer-to-peer campaign. Instead, you can hold a virtual walk-a-thon! Just remember to leverage the right virtual tools, like a video conferencing platform or a livestream channel for updates and hashtags for sharing.
Virtual opportunities like online fundraisers and events are some of the best ways to stay connected with your supporters in a time like this. If anything, they're likely at home spending more time on their computers anyway!

5. Compile consistent reports.
In order to continuously improve your donor relationships, one of the best things you can do is look at your data. Each time you communicate with a supporter, someone makes an online gift, or you host a virtual event, you're collecting valuable data which can be moved into your database for tracking.
Within your donor database or constituent relationship management (CRM) system, you should be able to gain a comprehensive view of all of your donor relationships. This way, you can easily pinpoint areas of success as well as opportunities for improvement.
Take this a step further and compile reports to determine the best ways to engage with supporters. Make sure your fundraising platform can gather and analyze data through reports that you can customize yourself. This way, you can visualize how different engagement efforts are working and tweak your processes in real time!
For instance, you can create a report to determine which marketing tactic led to the most gift conversions. Compare the gifts made from your email outreach to the gifts made from social media engagements. Using this data can help form your marketing strategy going forward!
Reports aren't just useful for improving your donor relationships in real-time. Collecting and analyzing this data now can also help your organization if you end up in a similar situation in the future.
---
Your donor relationships are some of the most important assets your nonprofit organization has. After all, without your donors you wouldn't be able to make the meaningful changes you've had in the past. In the midst of COVID-19, these relationships are more important (and fragile) than ever. Good luck!
---
About the Author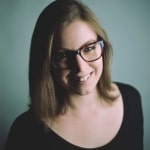 Abby Jarvis is the Nonprofit Education Manager for Qgiv, an online fundraising service provider. Qgiv offers industry-leading online giving and peer to peer fundraising tools for nonprofit, faith-based, and political organizations of all sizes. When she's not working at Qgiv, Abby can usually be found writing for local magazines, catching up on her favorite blogs, or binge-watching sci-fi shows on Netflix.