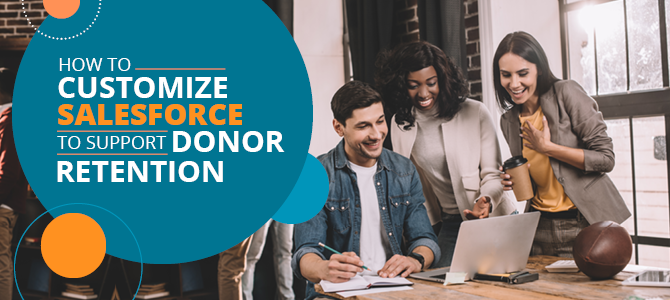 Salesforce is a completely customizable CRM solution for for-profits and nonprofits alike. That's one of the major selling points for the software: it's completely malleable so you can make it fit any organizational need. 
In this guide, we'll specifically explore how you can customize your Salesforce solution to help your nonprofit improve your donor retention rates. Improving donor retention is more than simply installing a new Salesforce app. You need to make sure all of your different tools will work together and that you know how to use each of them effectively. 
And donor retention is important! As your donor retention improves, your average gift amount should also begin to increase. After all, the "generous major donor" is incredibly rare. It's the donors whose support you retain for years that end up coming back with substantial gifts in the future. Plus, it's much less expensive to reach out to existing supporters than it is to constantly find and acquire new supporters.
That's why your nonprofit needs to work hard to make sure you're supporting your donor retention rate as much as possible. When using Salesforce, this means: 
Installing the Nonprofit Success Pack

Investing in additional fundraising software

Asking for help if you need it
If your organization is new to Salesforce, you may benefit from an overview of how the CRM software works. For instance, this article from Salsa about Salesforce for Nonprofits may be a good read-through. Then, you can jump back into the customization process. 
Ready to get your software ready to retain donors? Let's dive in to learn more!  

The Nonprofit Success Pack
Chances are you've heard of the Salesforce Nonprofit Success Pack. This is the Salesforce-built solution that turns the blank canvas of Salesforce into a usable CRM for nonprofits. 
Essentially, the Nonprofit Success Pack provides the basic customization you need to make Salesforce usable and valuable for your nonprofit. It's the starting point on which you'll build a whole CRM system. 
According to this article, the Salesforce NPSP provides the different objects and fields that help nonprofits get organized. It organizes data using the following standard objects: 
Accounts:

Accounts are used to organize records about funding sources. 

Contacts:

Contacts are used to track data about individual supporters. 

Opportunities:

Opportunities lists the potential or promised donations.

Campaigns:

Campaigns track the success of your marketing initiatives. 
In addition to these standard objects, the NPSP offers more objects like affiliations, relationships, engagement plan templates, and recurring donations. 
Implementing the NPSP is the first step to helping your nonprofit improve your donor retention rates. When you can effectively organize your nonprofit's information in your CRM, that makes it much easier to take the necessary time and pay attention to the individual needs of your supporters. 
Then, you can pull information from your well-organized CRM to make decisions about how to segment your donors, which fundraising efforts should be repeated, and more. 
However, the NPSP isn't the only solution you'll need to customize your Salesforce CRM to use it to its best capacity. You'll also need to build out the software ecosystem to include comprehensive fundraising software, as we'll discuss in greater detail in the next section. 

Additional Fundraising Software
Not only does your nonprofit need a great strategy to stay organized. In order to effectively reach supporters and use the information you've so carefully organized, you also need to customize your Salesforce solution with outreach tools. After all, outreach and communication are absolutely essential for donor retention.
When you incorporate strategies for online fundraising, major gift opportunities, fundraising events, stewardship opportunities, and more into your CRM, you build out a complete nonprofit software ecosystem. 
Configure your ecosystem of integrated tools to help guide you through engagement and fundraising opportunities from the very beginning of your relationship with donors. 
Some of the solutions to look for in order to build out your Salesforce nonprofit software ecosystem include tools for fundraising, digital marketing, advocacy, event planning, matching gifts, and prospect research. Let's learn a little more about each. 

1. Fundraising Tools
Fundraising tools provide the resources that  donors use to give to your nonprofit. This includes things like your donation page and your peer-to-peer fundraising platform. 
Look for fundraising tools that allow you to streamline the giving process for your supporters. Customize the form so that you ask supporters for the most important information to help your nonprofit (email, name, payment information), but minimize unnecessary information so that the giving process is quick and easy. 
When your fundraising tools are integrated with your Salesforce CRM, you can launch smarter fundraising campaigns. See how successful your outreach is at driving supporters to these fundraising opportunities and converting them to donors. 

2. Digital Marketing
Digital marketing is a key part of building relationships with your supporters. Maintain a strong presence in your supporters' email inbox, on their social media wall, and in their mailbox in order to support your retentions and stewardship strategy. 
Craft the messages for these different marketing platforms using the segments of supporters from your Salesforce CRM. This way, you can make sure your marketing outreach is personal and relevant to all of your supporters' varied interests and key motivations for giving. 
Plus, when you have an integrated digital marketing platform, you can better track the success rate of your marketing strategy, then make adjustments for even better stewardship and communication. 

3. Advocacy Tools
Your supporters don't want to be asked to give over and over and over again. The last thing you want your supporters to think is that you're treating them like an ATM. How do you combat this feeling? Provide more opportunities for them to get involved in other ways. 
Advocacy campaigns are a great way to get your supporters involved in the advancement of your mission. Invest in tools that will help you create petitions, click-to-call campaigns, and other targeted actions that your supporters can use to reach their community leaders on behalf of your mission. 
When you have a complete software ecosystem, you can save information about the other opportunities supporters have taken to help your nonprofit: every petition signed, call made, and representative emailed. Not only does your nonprofit benefit from the actions, but your supporters feel a stronger bond with your organization. 

4. Event Planning Tools
Event planning is vital for donor retention rates. Events of all types are great opportunities for you to meet your supporters in person, and for them to meet you! This is an important step in building a relationship with your supporters, making better asks, and retaining them in the long-run.
Event planning tools allow your nonprofit to create effective registration tools and marketing collateral so that it's easy for supporters to learn about the event and sign up to attend. 
Integrating your event planning tools with your CRM is important because you can personalize invitations based on saved supporter data from previous interactions. 
For instance, you may reach out to those who attended your annual event last year and remind them of how much fun they had. Plus, you can store information about those attending this event for future use. 

5. Prospect Research
Prospect research, when it's integrated with your Salesforce CRM software, can help your nonprofit learn more about your supporters and fill in the gaps in donor profiles. 
You may use prospect research to find major gift prospects in your donor database. The combined information from your own engagement with them as well as their wealth and philanthropic indicators help you decide who will have the greatest affinity and ability to give during major campaigns. 
Prospect research is especially important as you develop better relationships with more and more supporters. Your donor retention improves in response and the number of major gift prospects will likely grow too. 

Ask for Help if You Need it
Salesforce is a powerful tool once it's set up to suit your nonprofit's needs. However, it can be incredibly difficult to customize it in just the right way. We have a couple of tips that will help you make it just a little bit easier: 
Invest in a completely integrated system.

Look for a complete fundraising solution with the different tools we talked about in section two that will integrate with Salesforce. This takes a lot of the stress out of the customization process. 

Do research before investing in apps.

Make sure you

look into the top Salesforce apps for nonprofits

and read through the reviews left by other nonprofit users. 

Know where to look for help.

Additional fundraising software tools should be able to answer integration questions and Salesforce experts can help guide you through the customization process. 
If you need help customizing your Salesforce solution to fit your nonprofit's needs, there's no shame in asking someone!
As we said, Salesforce can be complicated when it comes to customization. And if you're not reaching the full potential of your software, you're also not getting the most of your fundraising strategy. 
Different organizations can help you build an entire strategy around your software and how to use them. DNL OmniMedia's article on nonprofit digital strategies outlines how this is done step-by-step. You need to use your software to reach your goals, satisfy your communication plan, and grow your nonprofit. 
---
Salesforce is the world's leading CRM for a reason. Once it's customized, it's an incredibly powerful tool. However, the process of customizing it can be tricky for nonprofits. Following the steps in this guide are a great way to get started. 
While you customize, remember that the needs of every nonprofit are different. Yours will be different from the other organization up the road. Make sure that however you customize your software, you do it with your unique goals in mind. Good luck! 
---
About the Author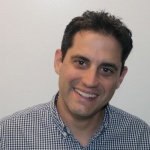 Gerard Tonti is the Senior Creative Developer at Salsa Labs, the premier fundraising software company for growth-focused nonprofits.
Gerard's marketing focus on content creation, conversion optimization and modern marketing technology helps him coach nonprofit development teams on digital fundraising best practices.